If you are given a residence permit in Norway, the police will take a new photo of you for your residence card. The requirements for this photo are the same as those which are stated on this page.
Photo requirements for visa and reidence permit
The photo must show the whole head (the face must take up 70-80 per cent of the photo) and the top of your shoulders.
Eyes must be open and clearly visible with no hair across the eyes.
Wearing glasses is permitted. The lenses must not be tinted, the frame must not cover parts of your eyes and there must be no reflection in the lenses.
Religious headgear is permitted if your chin, forehead and both cheeks are clearly visible. The headgear must not cast a shadow on the face.
the photo must be

in sharp focus, clear and with good contrast
printed on high-quality photo paper at a high resolution
taken directly from the front, against a light background
in colour
35–40 mm wide
maximum six months old, and look like you
Please note! If the photo you enclose does not meet all the requirements, you will be asked to submit a new photo.
If your application also concerns your child, you must submit photos both of you and your child.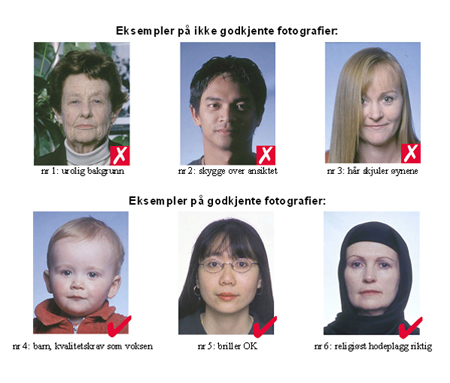 Illustration which shows what photos meet the requirements.
Photo requirements for Norwegian passports, immigrant passports and travel documents
If you are having your photo taken for a Norwegian passport, Norwegian immigrant's passport or Norwegian travel document for refugees, you must follow the police's photo requirements (external website).